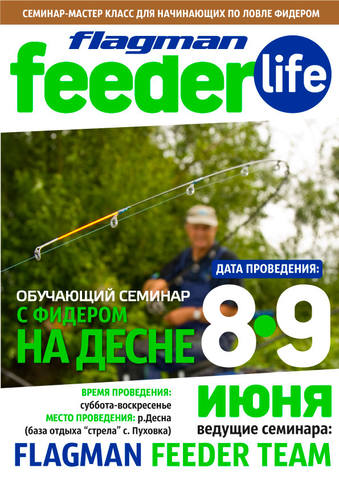 We invite you to accept participation in tutorial seminar "Since fiderom on Desna (disambiguation) ",which will mark 8 – 9 June on base vacation" ventures " (sec. Pukhovka, the Desna river).
Spend-door workshop fly fishermen-athletes, belonging in composition team Flagman feeder team.
In program, classes and master-classes, needs of which covers such important questions, as species udilisch and their secure use, the right the fabrication osnastok, tactic as industrialized fishing, work with prikormkami, appointment and the use of as equipment, and others. On seminar will represented products trade brands Flagman, Preston has, Korum, Drennan, Daiwa, that you can not only see, but and experience in action.
With program, and conditions participation can be to familiarize themselves on our Forum: http://flagman.kiev.ua/forum/index.php?topic=38143.0
Conditions participation, program | Registration
Registering the also is conducted and in networks stores Flagman
Request register until 31 on May
Note: In case if number of registered exceed opportunities organizers of (100 people), the right on participation will standing in lottery (in no clothing left Flagman, str. Volyn, 48 / 50, 1 June. Precise time will originally 31 on May)


Program outstanding, on how to catch fish fiderom
"Since fiderom on Desna (disambiguation) "

Saturday 8 June:
8.00 – Landfill gas capture participants have retailer Flagman (it comes. Vasily Grigoryevich Perov, 38 / 1)
9.00 – Otpravlenie bus on base vacation "ventures "
10.00 – WAMENA Arrivals on base
10.00 – 10.30 – Registration participants, the issuance beydzhev, breakfast
11.00 – Zanyatie on subject: "What such Desna river and with than its eat "
A.m. – Zanyatie on subject: "Feder this physical education are obligatory "
12.00 – Zanyatie on subject: "changes udilisch not case " +
Synthesis demonstration of on water.
13.00 – Zanyatie on subject: "Let set of we together "
14.00 – Lunch / beach
15.00 – Zanyatie on subject: "Everyone its burdens with a "
16.00 – Master-class on work with prikormkami
17.00 – Zanyatie on subject: "Species fidernykh osnastok "
18.00 – Master class on it catching fish on Desna (disambiguation),
Record willing on morning basis that is fish under the leadership instructors (in groups)
21.00 – A retirement party
Sunday 9 June:
5.00 – Training for to it comes to shagging
6.00 – The Beginning industrialized fishing
9.00 – End industrialized fishing
9.05 – Breakfast
9.05 – Supreme, questions and answers
A.m. – Vruchenie'souvenirs / gifts
12.30 – memorable photo / interview and camping on D.
13.00 – Closing of,
13.00 – 18.00 – Patriotic time, fishing
18.00 – Otezd participants with base

`I in seminar it's FREE!
This includes:
Transfer: Kyiv – base vacation ventures – Kyiv
Living in hutches, bed linen
Easy breakfast tea / coffee on the morning 8 and 9 June
Shifting my 8 June
Protection parking cars

Note:on territory base works cafes with cool sale of alcohol.
In hutches there is refrigerators and gas.
Last edited by Match Flagman (May 14 2013 12:06:18)